Multiple Tooth Implants in San Francisco, CA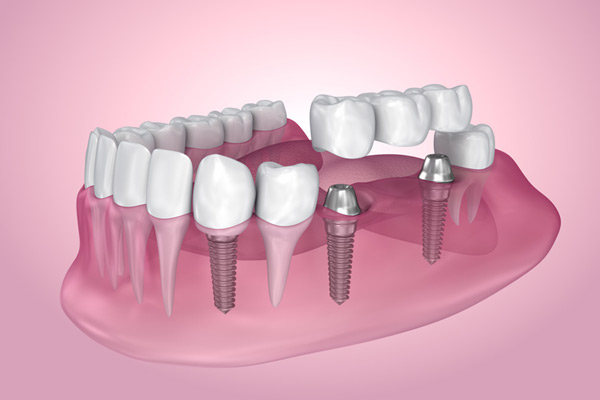 Dental implants are the gold standard in dentistry for replacing missing teeth. This procedure will leave you with a beautiful smile that feels and looks natural. If you have severely damaged or multiple missing teeth, you may need multiple implants to solve this problem. Dental implants and bridges can be combined to replace as many teeth as possible at the same time. Not only do dental implants restore your smile but they are also more comfortable and durable than any other form of restorative dentistry.

Whether you have lived with missing teeth for a month or several years, our dentist at San Francisco Dental Arts will offer you multiple tooth implants.


Multiple Dental Implant Procedure

The dentist will ensure that you feel comfortable when you are having a multiple dental implant procedure. The initial step involves consultation and treatment planning. The dentist will consult you and will determine the best plan where they will prepare you for the upcoming procedure. During the implant, a relatively minor procedure is done, and the patient will require local anesthesia. If required, the dentist can use sedation to make sure that you feel comfortable during the procedure. Then multiple titanium fixtures are placed on the jaw and leave the surrounding natural teeth intact.

After placing dental implants, the patient will have healing and recovery time which takes about three to six months depending on the state of your current health and how your body responds. During this time, each single tooth implant will integrate with the bone. Once the implant has fully integrated with the jawbone, you will need to visit your prosthodontist or dentist for abutments placement or an implant-supported bridge.


The Advantages of Multiple Tooth Implants

Compared to fixed bridges or removable dentures, implants are the perfect choice for many patients. This is because they are durable and can restore function while looking natural. In addition to that, there will be an improvement in the preservation of chewing power where it will transmit through your multiple tooth implants to the jaw. This will help to preserve bone volume and density.

Multiple tooth implants will help boost your confidence and visual improvements in your smile. Instead of avoiding situations where other individuals may see your teeth, such as laughing or talking to people face to face, patients with this procedure will notice some great enhancement. Implants also give them a more youthful appearance.

Unlike dentures that need to be regularly removed to maintain and clean, dental implants are a permanent solution. They make life more convenient and easier for patients with multiple dental implants. They no longer worry about replacing temporary dentures or future tooth loss.


Am I a Candidate for Dental Implants?

If you have undergone tooth extraction or you have multiple missing teeth, then you may be a potential candidate for dental implants. Since dental implants require oral surgery, it is important to be checked by a dentist to ensure that the procedure will be a success.

If you want to improve your smile, then you might consider getting multiple tooth implants. At San Francisco Dental Arts you can get an immediate exam and consultation to see whether you are a candidate for dental implants. Contact us at 415-854-9396 to schedule your consultation today.