Dental Exams

San Francisco, CA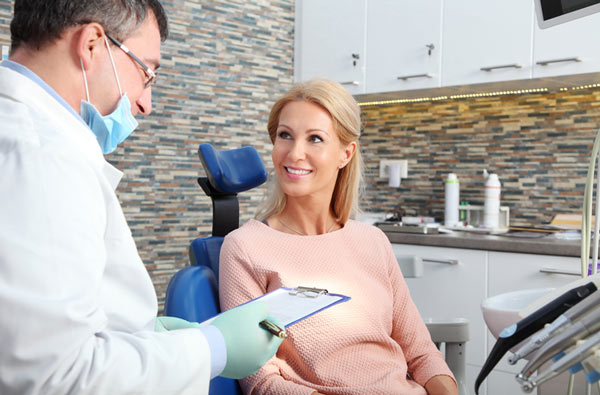 The frequency of dental check-ups varies from person to person, and changes throughout your lifetime. Generally, most adults and children should have a dental exam every six months. At San Francisco Dental Arts we use dental exams to detect any oral diseases or complications, and to assess whether you are at risk of developing any.


What to Expect During an Examination

An exam will usually consist of a dental cleaning by a dental hygienist, followed by an examination of the mouth by the dentist. If you haven't visited the dentist's office in some time, or if you are a new patient, you may also need an x-ray. Unless there are any immediate problems of mouth pain expressed by the patient, which will be dealt with first, the cleaning procedure will start.

The cleaning procedure will consist of the dental hygienist removing any plaque or tartar build-up on your teeth and gumlines, a deep clean with a high-powered electric toothbrush, a rinse with a solution containing liquid fluoride, and a fluoride treatment. While the removal of plaque or tartar may prove uncomfortable, depending on how big the build-up is, the whole procedure is simple and painless, and will help maintain your oral health.

The dentist will then come in and examine your gums, teeth and tongue for any signs of further, more severe, implications. They will discuss your oral hygiene, and may ask you questions about your diet or any medication you take, as this can have an effect on your oral health. We will also perform a routine oral cancer screening.

Our dentist will advise you on tooth-brushing and flossing techniques that will help maintain your oral health, while also telling you the most effective way to tackle any oral issues you may have.


X-rays

An x-ray may be needed to help the dentist detect any issues that cannot be found through a physical examination. An x-ray allows us to see the inside of your teeth, gums, and the bone structure that supports them. We will be able to discover any problems with the mouth, such as oral cancer, gum disease or tooth decay.

The x-ray also allows an examination of the structure of the jaw and teeth. The dentist will be able to see if the jaw is correctly aligned and will be able to advise you further if there are any problems. In some cases, you may need to be referred to a specialist to get the best treatment. It is important to tell us about any chronic diseases you have, or medications you take that may be affecting your oral health.


Scheduling Further Appointments

We will advise you when it is best to next visit our office. The better a patient keeps to their routine check-ups, the less time it allows plaque to build up and other problems to develop. The dental examinations are not only important for the health of the mouth and tongue, but many diseases in the body can first show their symptoms in the mouth, such as diabetes.

In most cases, the dental exams are quick and do not require any further procedures. San Francisco Dental Arts offers a range of treatments to accommodate your oral health needs. Call 415-854-9396 to arrange your next dental exam.