Dental Exams

San Francisco, CA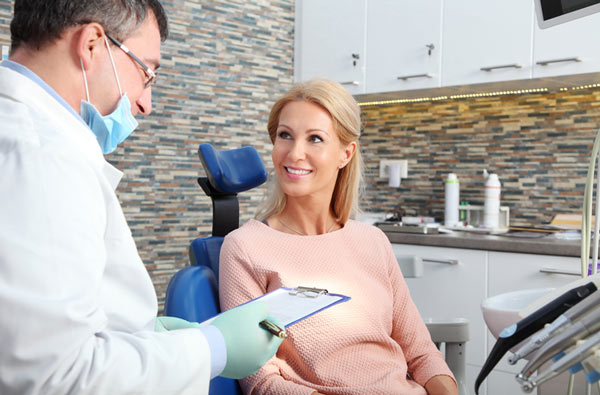 The frequency of dental check ups varies from person to person, and changes throughout your lifetime. In general, most adults and children should have a dental exam every six months. At San Francisco Dental Arts we use dental exams to detect any oral diseases or complications, and to assess whether you are at risk of developing any.


What To Expect During An Examination

A dental exam will usually consist of a dental cleaning by one of our dental hygienists, followed by an examination of the mouth by the dentist. If you haven't visited the dentist's office in some time, or if you are a new patient, you may also need an x-ray. Unless there are any immediate problems of mouth pain expressed by the patient, which will be dealt with first, the cleaning procedure will start.

The cleaning procedure will consist of the dental hygienist removing any plaque or tartar build up on your teeth and gum line, a deep cleaning with a high-powered electric toothbrush, a rinse with a solution containing liquid fluoride, and finally, a fluoride treatment. While the removal of plaque or tartar may prove a bit uncomfortable, depending on how severe the build up is, the whole cleaning procedure is simple and painless, and will help maintain your oral health.

The dentist will then come in and examine your gums, teeth, and tongue for any signs of further, more severe, implications. The dentist will discuss your oral hygiene with you, and may ask you questions about your diet or any medication you take, as this can have an effect on your oral health. Our dentist will advise you on proper techniques for tooth brushing and flossing that will help you to maintain optimum oral health, while also telling you the most effective way to tackle any oral health issues you may have. We will also perform a routine oral cancer screening.


Oral Cancer Screening Procedure

First and foremost, our dental professional does both physical and visual examinations. The dentist will focus on areas such as the neck, tongue, face, palate, gums, and nose. If you wear dental appliances like retainers and braces, you will need to remove them so that you can allow the dentist to view all of the areas of the mouth likely to develop oral cancer.

The dentist will then look for abnormalities in the mouth. Things like red patches, swelling, white patches, bumps, sore patches, and sores could indicate the presence of oral cancer. Our dentist uses a light and a mirror to check the inside of the nose. A tongue depressor is used to check the areas at the back of the throat.

Additionally, the dentist will look out for things that are out-of-the-ordinary, for instance, tissue masses and nodules. These tissues and nodules may require further testing such as a biopsy. Our dentist may utilize special equipment to detect precancerous cells that the naked eye cannot see. The device shines a light onto the cavity in order to check for the cells. Annual oral cancer screenings are recommended at San Francisco Dental Arts.


X-Rays

An x-ray may be needed to help the dentist detect any issues that cannot be found through a physical examination alone. An x-ray allows us to see the inside of your teeth, gums, and the bone structure that supports them. We will be able to discover any problems with the mouth, such as oral cancer, gum disease, or tooth decay. These may be developing but not yet be visibly apparent.

An x-ray also allows an examination of the structure of the jaw and teeth. The dentist will be able to see if the jaw is correctly aligned and will be able to advise you further if there are any problems. In some cases, you may need to be referred to a specialist to get further treatment. It is important to tell us about any chronic diseases you have, or any medications you take. Even if they do not seem dental related, there is a possibility they could be affecting your oral health.

There are three primary types of intraoral (within the mouth) digital x-rays, with each type offering its own benefits. These different intraoral x-rays include the bitewing, periapical, and occlusal views.
A bitewing view is split evenly between the upper and lower jaw and allows us to detect cavities in the crown of your teeth, as well as bone loss in the subgum parts of your teeth. This type of digital x-ray is typically taken of the back halves of the jaw.

The periapical x-ray view shows the roots of the teeth in great detail. It can often pinpoint sources of nerve pain and can sometimes detect superfluous or impacted teeth below the gums. This type of x-ray is often used as a precursor to periodontal and endodontic procedures, as well as for root canals.

The third type of digital x-ray is the occlusal view, which is primarily used to study the bone tissue in both the upper and lower jaw. These x-ray views can be very useful in detecting bone loss, tumors, and salivary duct blockages.


Scheduling Further Appointments

We will advise you when it is best to next visit our office. The better a patient keeps to their routine check ups, the less time it allows plaque to build up and other problems to have time to develop. We recommend coming to see us every six months. You may require dental exams more often if you have a specific issue going on in your mouth, or if you are beginning to develop periodontal (gum disease). Dental examinations are not only important for the health of the mouth and tongue, but many diseases in the body can first show their symptoms in the mouth, such as diabetes. It is true; your oral health affects your overall health, so it is important to keep your mouth healthy and clean.

In most cases, dental exams are quick and do not require any further dental procedures. San Francisco Dental Arts offers a range of dental treatments to accommodate your oral health needs. We would love to provide you with a consultation and thorough exam to detect any oral health problems you may have before they cause worse problems in the future. Give us a call today at 415-854-9396 to arrange your next dental exam.