Invisalign® vs. Braces in San Francisco, CA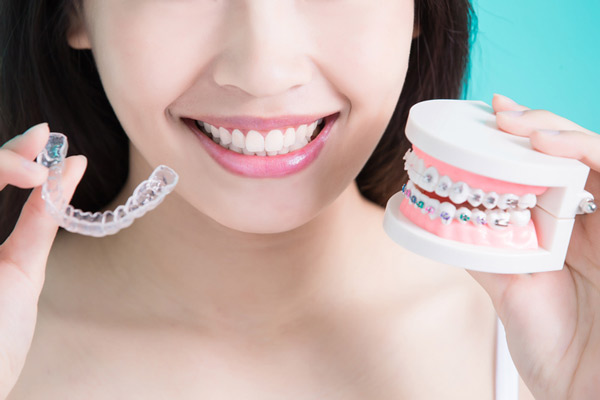 Since the advent of clear aligners, a common Invisalign frequently asked question is whether it is better than braces. The Invisalign vs. braces debate derives pretty divided results. At San Francisco Dental Arts, Dr. Stanley Siu offers both of these orthodontic treatments to treat misaligned teeth. Both treatments work similarly; they exert pressure to realign your teeth and correct your malocclusion.


Here are some reasons to choose Invisalign:

| | |
| --- | --- |
| • | Invisalign is more visually appealing as the clear aligners are essentially invisible, especially from a distance |
| • | You can take the Invisalign trays out while eating, which means you can eat whatever you like |
| • | Brushing your teeth is easier since you can remove the Invisalign aligners to brush and floss them |
| • | It involves fewer visits to the orthodontist |
| • | Clear aligners are relatively more comfortable to wear |
Why Choose Braces

Here are some benefits of choosing braces as your orthodontic treatment:

| | |
| --- | --- |
| • | They are more well-suited for fixing complex teeth issues |
| • | You get the perfect result |
| • | You can choose from multiple options, including ceramic and lingual braces |
| • | No fear of losing them since they remain attached to the teeth |
| • | They work faster at closing gaps and fixing alignment |
Invisalign vs. Braces – a Comparison

While Invisalign and braces both correct tooth alignment and spacing issues, here's a fair comparison of these orthodontic treatments based on various factors:


Comfort

Invisalign is inarguably more comfortable than braces. The latter can cause pain and discomfort, especially in the earlier weeks of treatment and when the dentist tightens them. The metal also pushes against the inside of the mouth. You might also take some time to get used to clear aligners; people experience a lisp and excessive salivation for the first few days into the treatment. But they are generally softer and more comfortable than braces.


Appearance

Braces have small brackets attached to a wire and are fitted with bands. These brackets can be ceramic, plastic, metal, or other materials. They can be silver, clear, or the color of your teeth. Even though some braces can be less noticeable, Invisalign aligners offer a remarkably natural aesthetic appearance. They are clear aligners custom-made to fit your mouth and become unnoticeable.


Effectiveness

Both treatments are FDA-approved. However, Invisalign is effective at treating mild dental issues. Braces are more heavy-duty and can treat complex cases, such as significant gaps, severe crowding, and rotated teeth.


Procedure

Traditional braces require a dental exam, x-ray imaging, securing brackets to the teeth with adhesive, threading a wire through them, and keeping the brackets and wires in place with bands. Our treatment plan includes multiple follow-up visits to tighten and adjust the braces. After removal, you must wear a retainer to ensure the alignment remains the same.

The process for getting Invisalign starts with a dental exam and x-ray. Then, we make a mold of your teeth to create custom Invisalign trays. We will keep switching the trays with new aligners after one to three weeks to realign your teeth properly. You must wear clear aligners for at least 22 hours daily to see effective results.


Affordability

Invisalign might cost a little more than braces. However, the overall cost will vary based on location, treatment duration, the complexity level of your dental issue, and orthodontist.


Which Treatment Is Better for You?

At San Francisco Dental Arts, we offer both treatments to our patients. If you wish to get a consultation to decide which treatment will work best for you, call us at 415-854-9396.