Why Clear Aligners? San Francisco, CA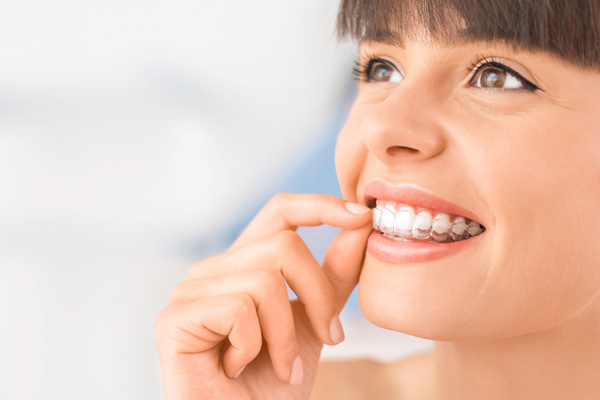 Are you wondering whether Invisalign will be a good tooth straightening option for you? Having crooked teeth can take a toll on your life. However, at San Francisco Dental Arts, we have a variety of services to help you reclaim that lost smile. Dr. Stanley Siu is dedicated to improving your oral and overall health.


What Are Clear Aligners?

It's not uncommon to think of traditional braces when you have misaligned teeth. Thanks to technological advancements, today, there are better and hassle-free options to help you achieve straight teeth discreetly. Clear aligners are transparent and removable teeth alignment devices that align your teeth without subjecting you to any life disruptions.


Benefits of Clear Aligners

Clear aligners are often preferred for several reasons. The most obvious one has to do with how clear and nearly invisible they are. This means they will hardly draw any attention, unlike metal braces.

Clear aligners are also removable, which means you can easily remove them for flossing, brushing, and eating. They have the added benefit of allowing you to eat whatever you like while your teeth get straightened, unlike braces, where you're actively required to avoid hard and chewy food items.

Invisalign aligners are comfortable and soft without any sharp edges, unlike metal braces that can scrape the insides of your mouth.

With Invisalign, your teeth have far fewer chances of undergoing tooth discoloration. With traditional braces, discoloration is a common outcome because it's hard to clean your teeth. Such cases call for professional teeth cleaning and whitening services.

Clear aligners do not require as many dental appointments as other teeth straightening techniques. This makes them a wonderful option for those who are busy. The stated benefits certainly make Invisalign clear aligners an effective alternative to wire orthodontics for many adults.


How Do Clear Aligners Work?

Your orthodontist will likely conduct a dental scan to help design your customized aligners. In some cases, based on your needs, your doctor may also provide your teeth additional support by fitting clear attachments on them to join with the aligners.

These attachments work just like brackets but are usually inconspicuous. Even after your teeth are realigned, your doctor may recommend wearing a retainer to prevent them from returning to their original location. Hence, retainers are also an important part of the equation. They ensure that your results are sustained.


Find Out if Clear Aligners Are Good for You

It's safe to conclude that clear aligners provide many benefits over traditional braces. However, whether or not you're a candidate for them depends on your unique situation. While they're effective, they may not be a suitable intervention for every problem.

Our team of highly skilled professionals at San Francisco Dental Arts impart the best treatment to restore your aligned smile. Learn more or book a free consultation today by calling us at 415-854-9396 to find out if this is the right call for you.