Periodontal Care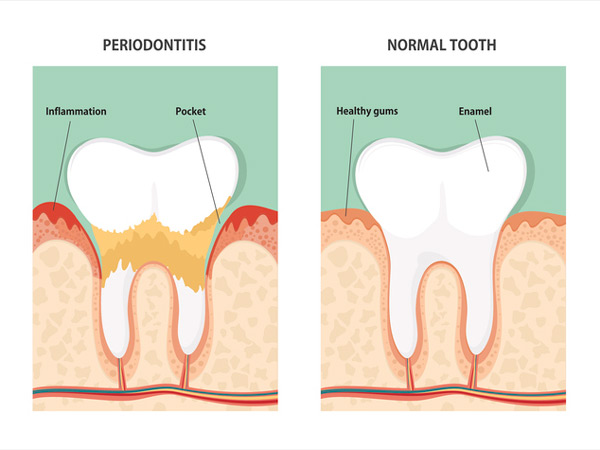 Periodontitis, a type of gum disease, is a common oral problem where the gums become red and swollen. In severe cases, often due to the patient neglecting the necessary treatment and care, periodontitis can lead to tooth loss, loose teeth and gum recession.

This may sound unsettling, particularly to those who take a lot of care with their oral health, but there are many forms of treatment and care for gum disease. Many of these techniques can be done at home to prevent the need to visit our office. At San Francisco Dental Arts we do offer a range of treatments for anyone experiencing discomfort from suspected periodontitis.


Diagnosis

Your dental hygienist will be able to evaluate your symptoms which may include: bleeding or swollen gums, bad breath, ulcers that bleed easily and difficulty talking. If you are suffering from any of these symptoms, you should contact us immediately.


Dental Treatment

When the gum disease isn't advanced, the dentist can advise some treatments that don't require surgery.

Using a scaler, a dentist can remove plaque or tartar from the gumlines and teeth. Alternatively, Root planing can be used to smooth root surfaces and discourage the future growth of plaque build-up, leading to a decrease in inflammation of the gums. The dentist may prescribe antibiotics after cleaning, in the form of a mouth rinse or antibiotic gel to administer between the teeth.

However, if the periodontitis has become advanced, then the dentist will have to take a more invasive treatment to eradicate the disease. They will refer you to a periodontist who will perform gum surgery to remove bacteria and prevent bone loss. It may be necessary to remove the affected tooth.

If the dentist does not operate upon advanced periodontitis, it can lead to loose teeth, permanent holes in the gums from ulcers and the gum between your teeth being completely destroyed. There is also the potential for periodontitis to have negative effects upon patients with other health issues such as cardiovascular disease, lung infections and can increase the chance of premature birth.


Home Care

Brushing your teeth twice a day is the most effective way to remove plaque at home. Using an interdental brush or floss will help clean between your teeth effectively. Your dental hygienist can show you techniques to brush and floss properly.

Mouthwash can help reduce plaque on the teeth, but only a toothbrush can remove it. Dull toothbrushes are not effective against plaque, so replacing it every three months is advisable. An electric toothbrush may be more effective in removing plaque.

Keeping to regular dentist appointments, once every six months for healthy patients, will ensure that oral complications do not develop. Our team will also be able to advise you on how to maintain your oral health better.

San Francisco Dental Arts takes any form of gum disease seriously and is available to educate you on the different types of gum disease and the best course of treatment if you are suffering from any of the symptoms mentioned above. Contact us at 415-854-9396 for more information on periodontal care.