Dental Fillings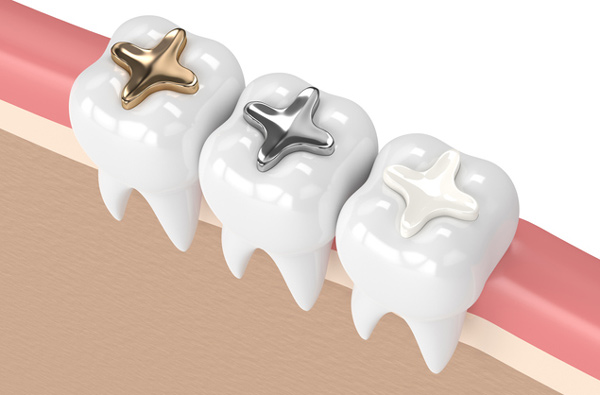 When a part of your tooth cavity has decayed, a filling is necessary to prevent any further damage from happening to the tooth. If tooth decay is discovered, San Francisco Dental Arts offers a variety of dental fillings to best suit your dental needs.

While tooth decay is the most common reason for needing a filling, they can also be caused by a number of other issues. Acidic food and drinks, such as soda and sugary sweets, can erode the enamel that protects your teeth, causing the need for a filling. Fillings may also be needed after an injury that resulted in a tooth chip or crack. Teeth grinding can also result in the need for fillings. Regular appointments with one of our dentists will help prevent tooth decay as we will be able to monitor your oral health.


Types of Filling

Amalgam filling is the most common type of filling and is made up of a mixture of metals. They are inexpensive compared to other fillings and last 10 to 15 years. Due to their strength, amalgam fillings are often used in the back teeth. Amalgam fillings are noticeable, however, due to their silver color, so they may be ill-suited for fillings on the front teeth.

Composite fillings are plastic resins that are made to match the color of your teeth, making them indistinguishable. The main benefit is their aesthetic as they cannot be noticed easily. However, composite fillings do take longer to fit, and are more expensive and less durable.

Inlays and onlays are ceramic fillings usually made of porcelain that are even more undetectable than composite fillings. Composite fillings can stain over long periods of time, whereas ceramic fillings are far less likely to. Inlays and onlays last a possible 30 years, making them more durable compared to traditional fillings. However, they are one of most expensive conventional fillings available.

Talk to one of our dentists to advise you on the best filling for your cavity. They will be able to help you assess which filling will suit your specific need.


Caring for Fillings and Avoiding Them in the Future

Some pain and tooth sensitivity may be felt after a filling has been put in place. This pain should only be temporary and will subside. Contact us if the pain doesn't reduce within 1-2 weeks.

Keeping to regular dentist appointments is particularly important after a filling as the dentist will need to ensure that the filling has not cracked or leaked. If a filling has cracked, and a patient does not attend their dental appointment, the tooth could decay further.

Dietary changes can also help reduce the risk of developing a cavity as sugary foods and drinks can wear down the enamel on teeth, due to their acidic content. Changing toothbrushes or toothbrush heads can help ensure brushing is keeping your oral health in optimal condition.

Otherwise, maintaining good oral health is the best course of action for avoiding further cavities, and to keep your current filling in a good condition. If you're unsure of proper brushing and flossing techniques, one of our dentists will be able to advise you.

To book a dental exam as a new or recurring patient here at San Francisco Dental Arts, please contact us now on 415-854-9396.