Mouthguards (Sports)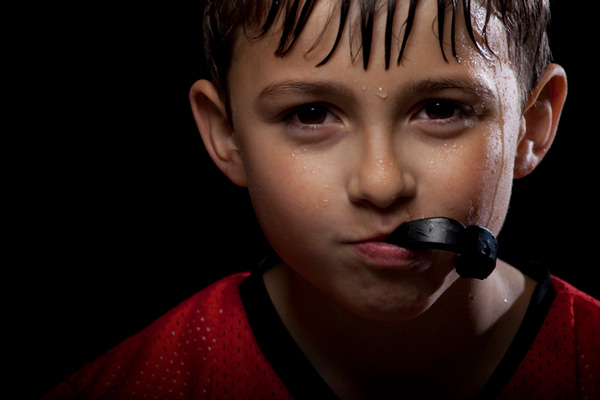 Contact sports or sports with moving objects can be a very dangerous environment for your teeth. One extreme tackle or a ball hit into the mouth can do serious, sometimes permanent, damage to the jaw and mouth. Custom-made sports mouthguards from San Francisco Dental Arts can help best protect your teeth in a high-impact environment.


Home Kits Vs. Custom Mouthguards

Mouthguards can also be bought from any local sports store. These use a method called 'boil and bite' to mold the mouthguard. The mouthguard is placed in boiling water, allowing it to soften and take an impression of a person's teeth. They can often prove to be uncomfortable and not sit on the teeth properly. They are inexpensive but do not offer the best protection for your teeth and jaw.

A 'boil and bite' can often unevenly distribute the rubber, due to the pressure placed on the rubber between teeth when it is bitten during molding. This causes the rubber on the bottom of the mouthguard to be thinner, which can lead to improper protection of the teeth. Custom mouthguards have an even amount of rubber across the whole mouthguard, giving the user optimal protection.

Home kit mouthguards can make breathing more difficult compared to a custom mouthguard. This can make high intensity exercises more difficult, and add stress to the user.

Custom mouthguards are made in a dental lab. If you are beginning a contact sport, talk to us to book an appointment for a molding. In this session, the dentist will take an impression of your teeth, and a professionally-made mouthguard will be constructed based on your teeth's size and shape, and how your jaw fits together.

Custom mouthguards are more expensive than home kits, ask one of our dentists for an estimate for yourself or a family member, and we can accurately tell you the cost and benefits of having a custom mouthguard made.


Benefits of Custom Mouthguards

While custom mouthguards are more expensive, home kits increase the risk of damage to the teeth and jaw, which could lead to further dental costs down the line. Mouthguards are especially important for children, as their teeth are still developing, and are damaged more easily than adults.

Custom mouthguards are highly customizable, with the possibility of adding different colors, patterns, your name and even glitter. Contact us to ask what customizable options we have available at the moment.

Mouthguards need to be replaced occasionally, sports players will often ask for a new mouthguard at their biannual dental appointment. Children may need them replaced more often than adults as their teeth are still developing. Mouthguards will suffer from wear and tear and will need replacing if they become damaged, to ensure optimal protection for your mouth.

Custom mouthguards are available at San Francisco Dental Arts for both adults and children. Buying any form of mouthguard is imperative to playing contact and ball-based sports, to avoid severe injury to the jaw and teeth. Mouthguards also help reduce damage to other areas of the face, so it is in your best interest to wear one. To book your custom mouthguard session now, call us at 415-854-9396.