Dentures in San Francisco, CA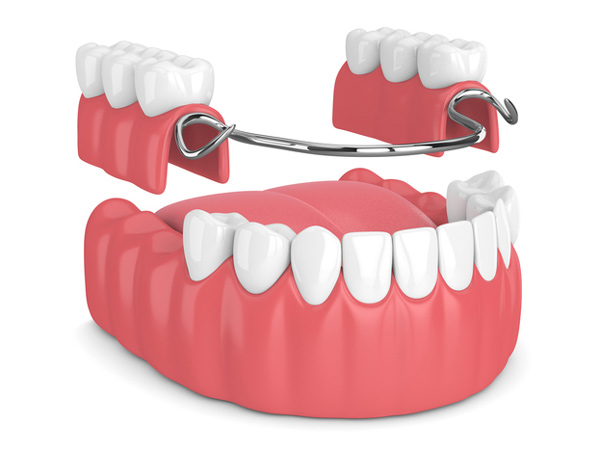 Your teeth are the first things that are noticed when you smile. However, providing you with a beautiful, confident smile, is not their only job. In fact, they have numerous important jobs within your mouth. For one, they allow you to bite and chew your food. They control air flow when you talk. Moreover, they also help to keep your jawbone strong and healthy. When you lose teeth, all of their abilities are compromised. At San Francisco Dental Arts we can help. Whether you are missing all of your teeth, or just a section, dentures and partials may be the answer for you.

Dentures are a set of artificial teeth that fit into the mouth to replace any gaps within the dental arches. There are two types of dentures: complete and partial. Complete dentures are a full set of artificial teeth, and are used when no natural teeth remain. Partial dentures are used when there are natural teeth left, and are used similarly to dental bridges, in which they fill the gaps between healthy teeth.

Dentures have a number of benefits, but they take time to get used to, as they don't work in the exact same way as natural teeth. If you're missing teeth, San Francisco Dental Arts wants to help you get your smile back. We offer professional molding and impression appointments to carefully create dentures that will fit comfortably in your mouth.


Why Do You Lose Teeth in the First Place?

There are several reasons why you might lose teeth. One of the most common reasons for losing teeth is due to untreated gum disease. This progressive, yet preventable, the disease is often brought on by poor oral hygiene. Bacteria irritate your gum tissue, causing it to become inflamed. The bacteria then sneak below your gum line and start attacking your teeth and your jawbone. As the bone weakens, so do your teeth. Eventually, your teeth fall out.

Gum disease is not the only cause. Hormonal changes, osteoporosis or facial trauma, although less common, can also lead to tooth loss.


Types Of Dentures

Dentures are made up of replacement teeth, usually made from acrylic, nylon or metal, and a metal wire that holds it all together. The metal wire runs behind the teeth. With each material, there are different advantages and disadvantages attached, as well as different pricings. Ask Dr. Siu and he will be able to advise you on the denture most suited for you.


Complete Dentures

Complete dentures can either be conventional or immediate. Conventional dentures are made after the teeth are removed, and are placed in the mouth when the gums have healed. The gums usually take 8 to 12 weeks to heal, but sometimes can take longer. Conventional dentures will need fewer adjustments and should fit very comfortably, as the mouth has already healed.

Immediate dentures are made ready for when the teeth are removed and can be placed in the mouth straight afterwards. The main drawback to immediate dentures is that they are placed in the mouth before the gums have healed, meaning the patient will have to come back several times to have their dentures adjusted. Immediate dentures can be used as a temporary solution while the patient waits for their gums to heal.


Partial Dentures

Transitional partial dentures are relatively inexpensive detachable plastic dentures that act as a temporary gap maintainer and tooth replacement as you recover from tooth removal, for instance. Once you're healed, we can place dental implants.

Removable partial dentures are normally made from cast Vitallium. They are well-built, metal-based detachable partial dentures that are less obtrusive and much lighter than their plastic counterparts.


Cosmetic Dentures

Like traditional dentures, cosmetic dentures are created from impressions of your mouth. Unlike traditional dentures, however, the teeth of your cosmetic dentures are customized to fit your needs and your smile. The teeth are also positioned where your natural teeth once sat. They are designed to look exactly like natural teeth. The teeth can be made from porcelain or acrylic. We can help you choose the best material to meet your needs. The base is also made to match the color of your natural gum tissue, which helps it to blend in more seamlessly. We will help to create a custom cosmetic denture that will provide you with the best possible results.


How Will Dentures Affect the Way You Eat, Speak and Look?

Initially, when dentures are placed, gums can get slightly sore. It might take a few weeks of visits to our office until they are finally adjusted. You might also need a little practice to bite and chew with them. We usually recommend starting with soft foods and avoiding any sticky or chewy foods. This can be done until your gums and tongue become used to the practice. Just like eating, speaking also requires practice. We suggest avoiding any exaggerated movement such as yawning as it can cause the denture to be dislodged.


Can You Wear Dentures at Night?

After getting immediate treatment, you are required to wear the dentures while sleeping so that they can identify the oral tissues for adjustment. However, they are usually taken out at night and worn mostly during the day.


Benefits of Dentures

Using dentures makes it easier to speak, thus improving your speech.

Dentures also make it easier to eat for the user. Dentures allow you to eat a wide variety of foods again. When a person has missing teeth, more pressure is put on the remaining teeth when eating, especially hard foods. Dentures help strengthen the mouth and help reduce the risk of further damage to any remaining healthy teeth.

Dentures also help increase confidence, as the patient will now have a full set of teeth. They can also improve facial structure, as missing teeth can change the shape of the cheek. You will regain a more youthful appearance and also have a beautiful and healthy smile!


How Long Do Dentures Last?

If dentures are handled well and taken care of in terms of cleanliness and maintenance, they can last for around five years. However, it can vary depending on individual differences. Regardless, they can cause the bone to shrink over time. Our dentist may use a liner to fit the denture surface to the oral tissue again to extend their life.


Looking After Your Dentures

Dentures can be fragile, and should be looked after carefully when not in the mouth. It may take a couple of weeks to get used to having the dentures in your mouth. Finding it hard to eat, increased saliva and difficulty talking are common symptoms after dentures are put in. You should not be alarmed if you are affected by any of these symptoms as they should subside quickly, as you get used to your new dentures. Both partial and full dentures are great choices for tooth replacement and loss. Regardless of the type of denture you use, it is crucial to maintain your oral hygiene habits.

Taking molds and impressions of the mouth can take several appointments, as we want to make sure we correctly measure your oral cavity. This will ensure that your dentures fit snugly within your mouth. San Francisco Dental Arts is happy to take on your dental needs and assist anyone who is having difficulty with their oral health. To learn more about our restorative services, contact us now at 415-854-9396.