Dentures

San Francisco, CA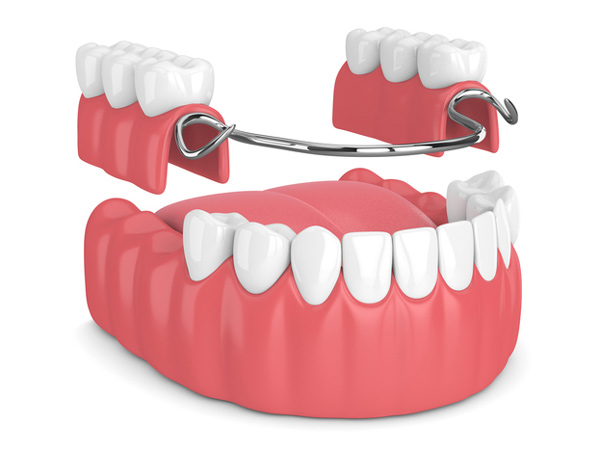 Dentures are a set of false teeth that fit into the mouth to replace any gaps within the dental arches. There are two types of dentures: complete and partial. Complete dentures are a full set of false teeth, and are used when no natural teeth remain. Partial dentures are used when there are natural teeth left, and are used similarly to dental bridges, in which they fill the gaps between healthy teeth.

Dentures have a number of benefits, but they take time to get used to, as they don't work in the exact same way as natural teeth. If you're missing teeth, San Francisco Dental Arts wants to help you get your smile back. We offer professional molding and impression appointments to carefully create dentures that will fit comfortably in your mouth.


Types of Dentures

Dentures are made up of false teeth, usually made from acrylic, nylon or metal, and a metal wire that holds it all together. The metal wire runs behind the teeth. With each material, there are different advantages and disadvantages attached, as well as different pricings. Ask Dr. Siu and he will be able to advise you on the denture most suited for you.

Complete dentures can either be conventional or immediate. Conventional dentures are made after the teeth are removed, and are placed in the mouth when the gum has healed. The gums usually take 8 to 12 weeks to heal, but sometimes can take longer. Conventional dentures will need fewer adjustments and should fit very comfortably, as the mouth has already healed.

Immediate dentures are made ready for when the teeth are removed and can be placed in the mouth straight afterwards. The main drawback to immediate dentures is that they are placed in the mouth before the gum has healed, meaning the patient will have to come back several times to have their dentures adjusted. Immediate dentures can be used as a temporary solution while the patient waits for their gum to heal.


Benefits

Using dentures makes it easier to speak and eat for the user. When a person has missing teeth, more pressure is put on the remaining teeth when eating, especially hard foods. Dentures help strengthen the mouth and help reduce the risk of further damage to any remaining healthy teeth.

Dentures also help increase confidence, as the patient will now have a full set of teeth. They can also improve facial structure, as missing teeth can change the shape of the cheek.


Looking After Your Dentures

Dentures can be fragile, and should be looked after carefully when not in the mouth. It may take a couple of weeks to get used to having the dentures in your mouth. Finding it hard to eat, increased saliva and difficulty talking are common symptoms after dentures are put in. You should not be alarmed if you are affected by any of these symptoms as they should subside quickly, as you get used to your new dentures.

Taking molds and impressions of the mouth can take several appointments, as we want to make sure we correctly measured your oral cavity. This will ensure that your dentures fit snugly within your mouth. San Francisco Dental Arts is happy to take on your dental needs and assist anyone who is having difficulty with their oral health. To learn more about our restorative services, contact us now at 415-854-9396.