Gum Problems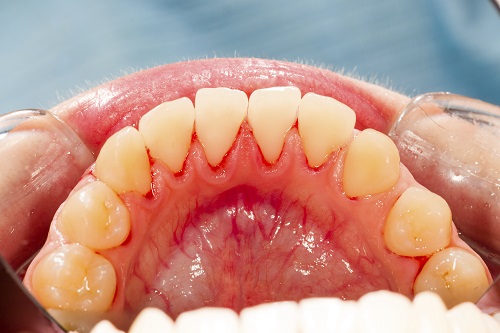 In the adult population of the United States, gingivitis is the most frequent form of gum disease. Gum inflammation is the medical term for what is known as gingivitis. Bleeding while brushing your teeth is a telltale sign of gum inflammation, as are gums that appear swollen and red.


Periodontitis

Gum disease is the most common secondary issue (periodontal disease, periodontitis). Unlike gingivitis, which only causes bleeding and swelling of the gums, periodontitis is marked by the loss of bone tissue in the jaw and gums. Due to the gum tissue and bone loss being irreversible, periodontitis is particularly problematic.

Symptoms of periodontitis may not begin to appear until the disease has progressed to its most advanced stages. Gum disease is the biggest cause of tooth loss, so it is important to keep your teeth clean.


Gum Recession

Gum recession occurs when the gum line separates from the tooth's initial connection, exposing the root (or cementum). Gum disease, which causes the jawbone surrounding the teeth to deteriorate, may be to blame. There is a direct correlation between the loss of bone and the loss of gums.

Exposure to the root system can lead to sensitivity to temperature, increased decay risk, and can be a cosmetic issue. Teeth grinding, chewing tobacco, brushing too vigorously, weak gums through ancestry, orthodontic treatment, and trauma can cause gum recession.


Gum Abscess

Another gum condition is an abscess (periodontal abscess). A blister or a lump on the gum that is filled with pus is the symptom. An infection in the deep recesses of the gums produces discomfort and inflammation.


Oral Cancer

Mouth cancer is less prevalent but severe gum disease. Oral cancer can develop in any of the mouth's soft tissue structures. Gum disease might appear as a red or white spot or a persistent ache.