How Often Should You Have Dental X-Rays Taken?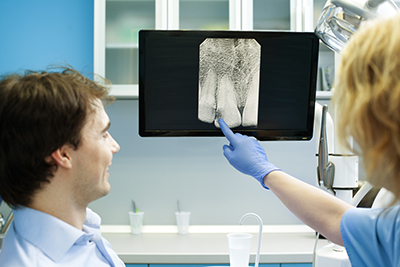 X-rays are a safe approach to find cavities that may not be seen with just a surface examination. We can see even a microscopic amount of tooth decay on x-rays that cannot be detected to the naked eye. In addition, we can see what is going on in the roots of your teeth. X-rays are efficient and precise.


Too Much Radiation?

However, some patients express concern about the small amount of radiation exposure from a dental x-ray. It is estimated that the average dental x-ray contains roughly the same amount of radiation you will absorb from natural sources in one day. In fact, some say you will be exposed to more radiation on a typical airline flight than you would in the dental chair from a dental x-ray. We are mindful of your concerns and take measures to minimize your exposure as much as possible.


Frequency of Dental X-Rays

We want to prescribe dental x-rays only when we need it. However, we want to make sure we understand the entire situation before we perform a particular dental treatment. The American Dental Association produced a document that suggests an adult with good oral health and low risk of dental problems should have x-rays taken at intervals of every 24 to 36 months. The Canadian Dental Association replies upon the same document for its recommendations across Canada. We find that it is best to order an x-ray only after we have looked carefully at the patient's situation.


You Have a Choice

We look forward to seeing you at your next routine checkup. We look forward to working with you and want you to know that you have a choice if you do not want dental x-rays. We will do our best to help you and care for your total oral health.