What are the Impacted Wisdom Teeth?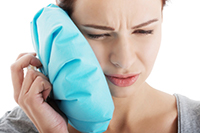 Wisdom teeth are the third molars located at the back of your mouth. If those teeth don't develop or emerge properly, they are referred to as impacted. The impacted wisdom teeth will cause overcrowding issues and pain. In some cases, the teeth may not cause any apparent matters but will make cleaning quite hectic.


Different Types of Impacted Wisdom Teeth

Impacted wisdom teeth can either be fully or partially impacted. The fully impacted are not slightly visible on the gums and are concealed under the gums. The teeth are barely visible above the gums for the partially impacted ones. There is another set known as non-impacted teeth; these have erupted entirely and are well visible on the gums but can still cause dental problems.

Another way to classify the impacted teeth is either soft tissue or hard tissue. Soft tissue occurs when your teeth have perfectly erupted from the jawbone; however, the tooth has not broken through the gums. On the other hand, hard tissue is when your teeth have not erupted from the jawbone and gums.


Can Impacted Wisdom Teeth Affect Your Dental Health?

Impacted teeth can cause pain in the gums. The partially or fully impacted teeth will be susceptible to infection, tooth decay, and gum diseases. These teeth are notorious for causing damage to the surrounding teeth. Your dentist or oral surgeon will perform various diagnostic tests, such as x-rays, to establish whether you have impacted teeth.


Treatment Option for Impacted Teeth

The preferred treatment modality for impacted teeth is surgical extraction. The treatment helps to minimize pain and prevent future problems. It will also help your oral health, as teeth are susceptible to decay and gum diseases. The teeth removal procedure is quite invasive and will require general anesthesia. Also, you will be offered pain medications to relieve discomfort and pain after the surgical procedure.