Tips for Easing the Pain of Wisdom Tooth Eruption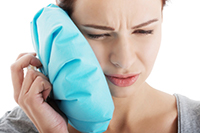 Are your wisdom teeth erupting? Are you in pain because they are poking through your gumline? You are not alone. Many people in their teenage years and into their twenties can sympathize. We have some tips for you to consider as you cope with the discomfort of erupting wisdom teeth.


Follow These Tips for Erupting Wisdom Teeth

You can do a few things to ease the pain of erupting wisdom teeth. We suggest that the first thing you do is make an appointment with us. We can see if your wisdom teeth are coming in properly. It is common for wisdom teeth to erupt at an angle and put pressure on adjacent teeth. Not only that, but if your wisdom teeth are coming in at an angle, they may be pushing your other teeth out of alignment. It is a good idea to have us look at your mouth if your wisdom teeth are erupting and you are in pain.

You can also take over-the-counter anti-inflammatory medicine to ease your pain. We suggest reading the label on the medicine thoroughly, and then making a good decision whether you should take it or not.

Lastly, you can apply a cold or hot compress against your face. However, don't put the compress directly on your face, put a washcloth or other barrier between the compress and your skin. Take the compress off your face after 10 minutes.


Give Us a Call if Your Wisdom Teeth are Erupting

If your gums are teeth are sore we still want you to diligently brush and floss your teeth. Brush your back teeth with gentle strokes. Also, give us a call today to make an appointment so we can monitor your mouth as your wisdom teeth erupt.